If you are managing your child's device with our iOS OurPact parental app, you will receive a request for OurPact to have access to your device location and contacts when using the Family Locator feature.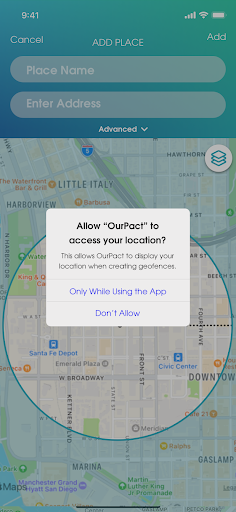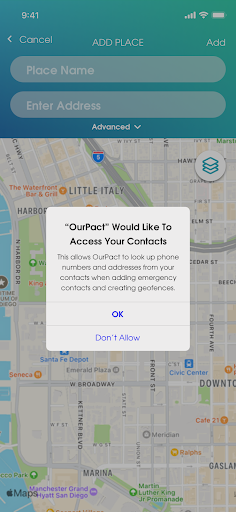 OurPact's parental app will now request permission to use your location to assist you in setting up Places (or geofences) for your children's devices. When you grant the OurPact parent app permission to use your location, anytime you set up a new Place in the Family Locator, the geofence will default to your current location. This way, creating a new Place will be as easy as a few taps! You can expand the radius of the geofence or move it on the map to better cover the area of a location.
Likewise, OurPact will request access to your contacts to help create "Places." If you want to create a geofence for a location associated with one of your contacts, you can enter the Contact's Name, Phone Number, or Address in the Address field to pull that contact's address.
Opting not to give OurPact permission to your Location or Contacts will also not affect your parental app's management abilities.
You can also change your Location and Contacts permission at any time through your iOS Settings.
Have more questions? Reach out to us at support@ourpact.com