Location History is the newest addition to our Family Locator feature. With Location History enabled, you can see on your Family Locator map the different locations your child's device has been in a day.
Premium subscribers will have access to 7 days' worth of Location History data, and Premium+ subscribers will have access to 30 days of data.
(click HERE to learn how to upgrade your subscription)
To get started with Location History i

n your PARENT app, please ensure:

1. Family Locator is Enabled

Launch OurPact > Tap the Locator Map on your child's profile > Tap the Settings
icon > Toggle ON Enable Locator and Show Location History
2. Your Child's Time Zone is Correct
Tap your child's profile image or Avatar in OurPact, and verify the selected time zone is correct.
With Family Locator and Location History enabled your child's location will be updated roughly once a minute. When the device has been in a location for five minutes or more, a 'breadcrumb' will be added to the map, and the location will be stored in the location history.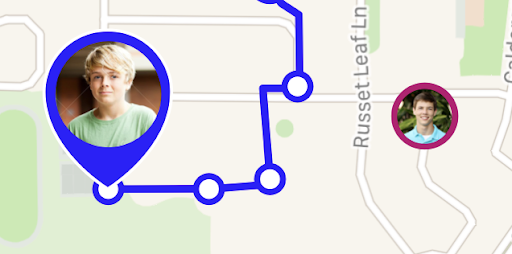 At the bottom of the Locator map, you will see a 'drawer' that, when opened, will provide details about your child's location history and allow you to scroll or search for different days of available data; days with available data will be displayed in teal on the calendar.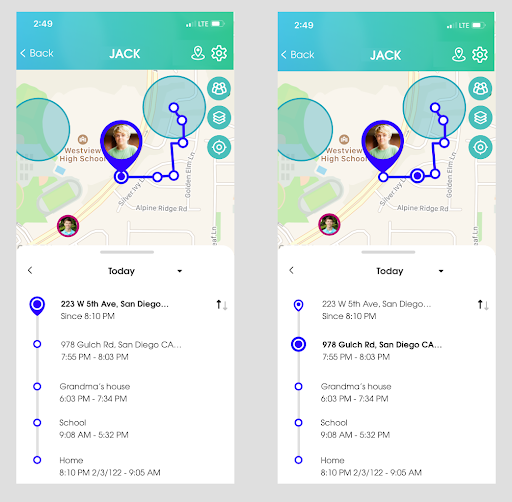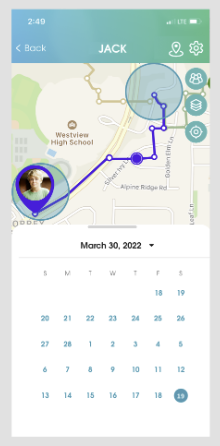 Some important notes about using Location History:
Only one child's location history will be displayed at a time.

You can tap on another child's profile on the map to see that device's location history.

Detailed information about a breadcrumbed location can be found in the drawer OR by tapping on the breadcrumbed location on the map.

Tapping a breadcrumbed location on the map will allow you to add the location to your saved Places as well as get directions to that location (using your default GPS app).
You can learn more about the different Family Locator map buttons HERE.
For the best reporting and operation of Family Locator and Location History, please ensure:
Location permissions have been enabled for OurPact Jr on your child's device.
The device has a strong internet connection- either via cellular data or Wifi.
The battery is charged and not in 'Power Saver.'
OurPact Jr is open or running in the background on your child's device.
Need more help? Email us at support@ourpact.com.